Kim's Work-in-Progress and Concluded Art.
It's always been a puzzle to the non-artist, the process an artist goes through to make a piece of Art.  Below you will see some of the ways I go about creating, either a Pencil drawing or a Painting, from start to finish.
Dragonfly on log: start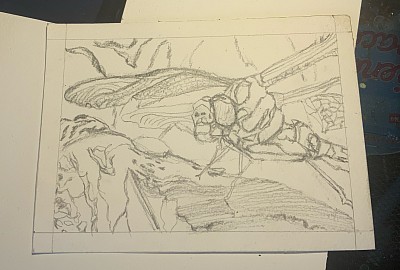 Narrikup Monthly Markets coming up and with these new A5 picture frames, Ive been working on smaller pictures in gouache and ink as studies for a bigger picture. I may have to revisit the cartoon bugs of old and play with different expressions and poses that I can imagine them taking.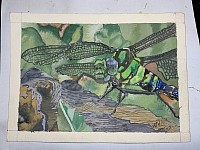 Dragonfly 2020
Dragonfly on log: end
  Finally finished this little guy, I think I'm developing a series of bugs - insects in their environments. I'm fascinated by Dragonfly's..starting as a larval nymph dragging itself out of the water to leave a desicated shell and transform into a master of flight..spinning mid air on a dime and darting over Lilly pads. Native American Indians saw it as a guardian of the Spirit World and I can see why, the way they capture light reflected in their wings brings out the magical to any visit to the wetlands and rivers.